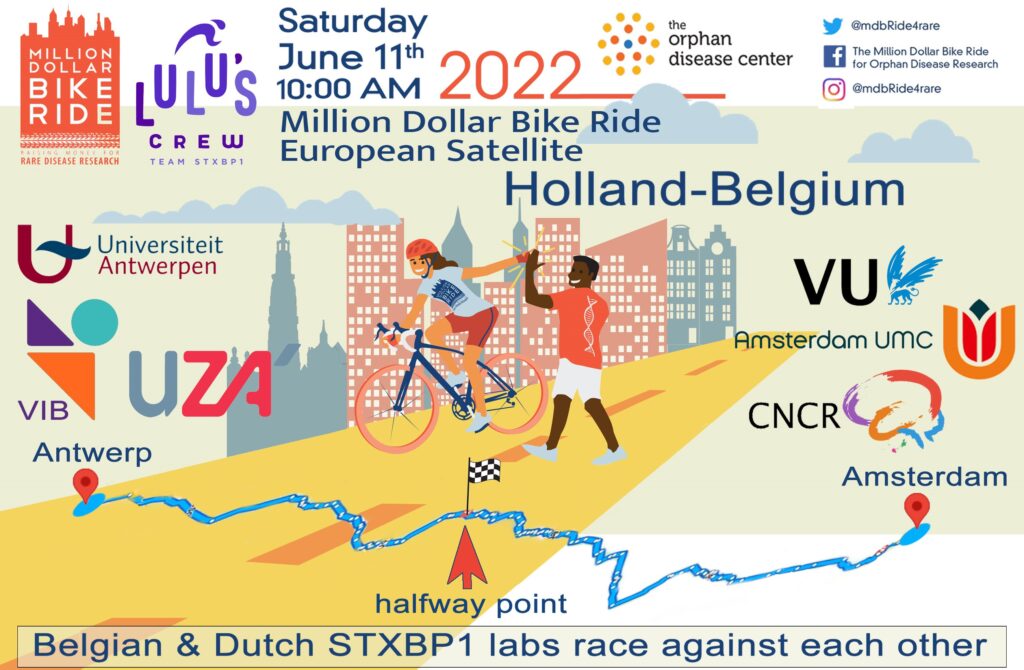 We bike together to raise money for research towards new treatments for the rare disorder STXBP1 Encephalopathy!
We will raise money for rare disease research on Saturday, June 11, 2022, as European counterpart of The Million Dollar Bike Ride organized by the Orphan Disease Center in the US.

Researchers working on STXBP1 encephalopathy from the VU University and Amsterdam UMC (Netherlands) and University of Antwerp and Antwerp University Hospital (Belgium) will bike towards a halfway point between their labs in Amsterdam and Antwerp. With this combined 170 kilometer bike ride, we hope to raise as much money as possible to aim for a better future for patients suffering from rare disorders. All donations will be transferred to the STXBP1 team of The Million Dollar Bike Ride campaign of the Orphan Disease Center, which supports research towards new treatments for rare disorders.
Please donate here.
If you are interested in riding along with us, or would like to join us at the middle point, please contact us at [email protected].
STXBP1 Encephalopathy
STXBP1 Encephalopathy is a severe genetic disease caused by a disease causing variant in the STXBP1 gene. STXBP1-E patients show a developmental delay in their first years, typically resulting in intellectual disability at a later age. Epilepsy is a common symptom (89% of patients) and is difficult to treat. Many patients also suffer from additional symptoms, such as movement disorders (e.g. muscle hypotonia, ataxia) or neuropsychiatric features such as autism spectrum disorder. The severity of the disorder differs between patients, and until now there is no disease-modulating treatment available.
We, researchers at the Vrije Universiteit (VU) Amsterdam and the Amsterdam UMC, the Netherlands, as well as the VIB Center for Molecular Neurology at the University of Antwerp and Antwerp University Hospital, Belgium, work together to better understand STXBP1- Encephalopathy. We aim to improve diagnosis and therapeutic interventions, and study the disease to understand how mutations in STXBP1 lead to STXBP1 encephalopathy. For more information on the disorder and our research, visit our websites stxbp1.cncr.nl and Sarah Weckhysen lab .